4. Add personalization
It's absolutely critical to know your customers and what they want from their online experience. Think about it — different customers will interact in different ways with your online presence.
"Every ecommerce business needs to put themselves in the shoes of their customers — all their customers. Different customers want different things, but they all want a great customer experience. Every part of your business, including your fraud protection, needs to align with delivering personalized and excellent CX."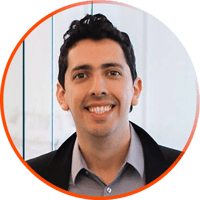 — Rafael Lourenco
ClearSale Executive Vice President & Partner
In an industry that has had a strong brick-and-mortar presence for decades, the pressure to deliver superior and personalized CX should be a top priority. One trick to make that happen is adding a chatbot. Think of it as your website's online concierge.
Make use of chatbots
Ecommerce chatbots are helpful because they satisfy one of the most basic shopping needs: information. About 90% of customers want answers to their question(s) within 10 minutes, to be exact. A chatbot can do that. Program logic and data allow chatbots to answer common queries, ask helpful questions and suggest products, making it easier for consumers to find exactly what they're looking for that much faster. And chatbots can be programmed to appear wherever the customer is along their buyer's journey.
5. Take advantage of video marketing
Video has become one of the most effective and widely used marketing tactics for online consumers. It can increase conversion rates by up to 80%, and 66% of people say they prefer a short product video over reading text about a product.
A well-shot video is often better than in-store handling of products, because it can demonstrate the correct way to use and care for those products.
That's great news, right?
Yes, as long as your videos are professionally shot, strategically placed and engaging. With so many other retailers using video, the key to rising above the noise will be how compelling yours is.
6. Step up your omnichannel presence
If you're selling to younger generations (And who in consumer electronic isn't?), you'll need to factor in how m-commerce, social commerce and other channels are used by those consumers. They're on their phones — almost constantly. Why not meet them where they're at with apps and social media shopping?
Here are some ways to take advantage of multiple ecommerce channels:
Social commerce through Instagram Shopping, Pinterest Lens, TikTok and other social media has made it possible for highly targeted marketing and sales campaigns based on social and online habits. The algorithm is real, giving retailers the opportunity to put the products shoppers want right in front of them.
Progressive web apps (PWAs) are app versions of your website that allow for push notifications and access to a camera, a microphone, GPS, voice commands and other app-like features. They also run faster, which adds to CX.
Smart speakers and voice assistants facilitate voice commerce, which is predicted to be an $80 billion revenue generator by 2023. In a post-pandemic era, where consumers have become much more aware of infection prevention, touchless consumerism is here to stay and 86% of consumers favor voice technology.
Virtual reality (VR) and augmented reality (AR) are mainstream technologies where consumers can shop "in-store" like they would in a brick-and-mortar experience. For younger customers, the "coolness" factor is turned up to 11.
7. Avoid needlessly aggressive fraud filters
Fraud prevention is critical — especially in the consumer electronics industry. But if your anti-fraud filters are too restrictive or burdensome, they may cause you to lose legitimate customers.
For example, velocity filters (which prevent customers from making multiple orders within short periods) can shut down impulse buys. This means if someone buys a video game console and then decides on the spur of the moment to splurge on an expensive controller, your fraud filter might stop them. Later in this guide, we'll discuss some alternatives to rigid rules-based filters.